As leading event and party caterers, we have vast experience of covering birthdays, christenings, weddings and anything else you can think of over many years now. We're a trusted provider of fresh, quality food and we're proud to have top class staff who pay attention to detail and want only the best for our clients. When Joanne and Marvin contacted us in the new year to ask about our wedding reception catering, they had been recommended to us by their friends who we catered for last summer. It's always great to hear that someone has enjoyed our service so much as to spread the word to others around them.
Joanne and Marvin had perused our various wedding menu options online before calling us and had selected our Wedding Menu Option 2. They spoke to me at the time and I let them know that we're flexible in case you want to create your own menu for your special day and we will happily help you with this, but they were more than satisfied with what they had already chosen. This option includes a chef, catering assistant, front of house person and waitresses and we arrive on-site several hours before your serve time.
This particular menu has options for you to choose a selection of canapés and the couple decided on our chicken satay, handmade gourmet sausages, halloumi kebabs and wild mushroom bouchées. The latter two are suitable for vegetarians, and as there would be several veggie guests, these would complement their vegetarian main dish of Spanish quiche. For the main course for the carnivores, which we serve as a buffet, Joanne and Marvin chose our hugely popular hog roast in Consett with apple sauce, stuffing and crackling. We serve this hot and fresh in crusty bread rolls and provide various condiments for the guests.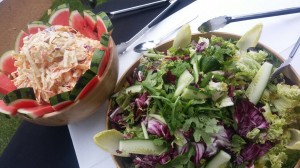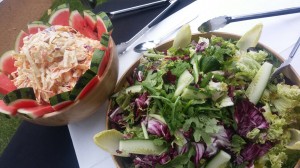 Instead of vegetables, the couple decided on salads, including avocado and cherry tomato, green leaf and lots of homemade coleslaw. A side dish of roasted new potatoes smothered in rosemary and garlic would complete the main course buffet, to be followed by the bride and groom's own wedding cake for dessert.
The wedding reception was a huge success and the guests loved the food so much that the hog roast Consett was stripped clean and we barely had to take any leftovers away at all.