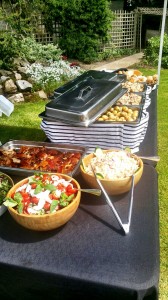 Here at Spitting Pig North East we run a first class catering service specialising in hog roast catering and barbecues. We are a team of fully qualified professional caterers who are dedicated to providing outstanding catering and excellent service to all our customers. We are based in Middlesbrough at the very heart of the North East of England and we provide our services throughout the region. We travel throughout the North East from Berwick down to Richmond and Scarborough, and all areas in between including Newcastle, Sunderland, Durham, Darlington, Middlesbrough.
The Best Centrepiece To Any Party
If you want your private party to be great success with a quality feast that impresses all of your guests then you have come to the right place, we have vast experience in private party catering and we understand how the food on offer can really make or break the party atmosphere. Good food equals happy guests and a great night so let us take care of everything and you can enjoy your party and concentrate on being the perfect host/ hostess while we do all the hard work for you! We will prepare, cook, carve, serve and clear away afterwards leaving you with nothing to worry about and the freedom to have fun and mingle with your friends and family.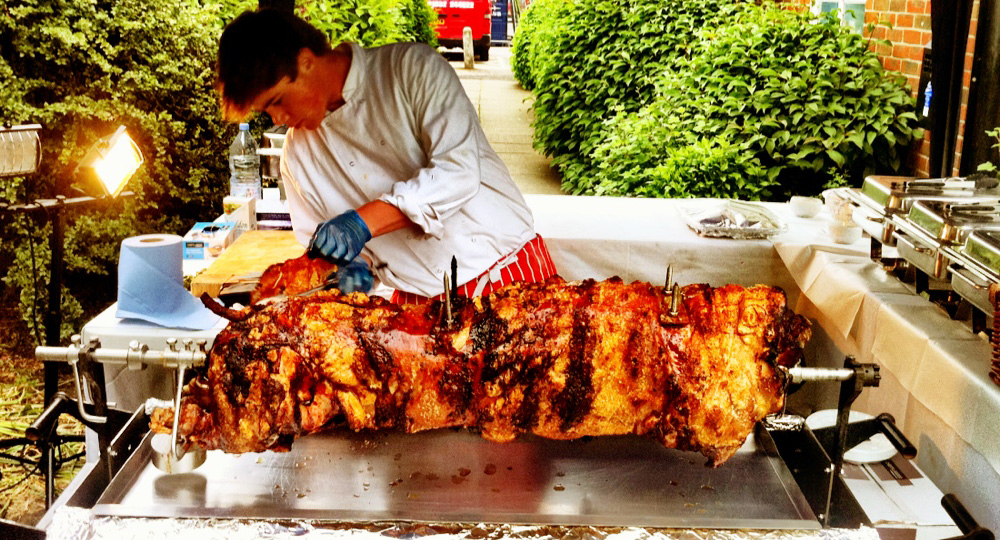 We also began to develop our ideas and menus offering more choices and styles of catering today we can cater for any type of event whether it's a private party, corporate event or wedding. We can serve any number of guests whether it's a small intimate party of 15 or a large scale event with thousands attending. Best of all we can come to any area within the North East, from Darlington to Newcastle, from Middlesbrough to Sunderland and all the locations in between. We offer a wide menu selection including our famous hog roast, mouth watering barbecues and lots more. This is because The Hog Roast North East team is such a versatile company. We can travel to any location in the north east, providing you with any menu you wish and no event is too small or too large for us.
A Huge Team Of Fully Qualified Caterers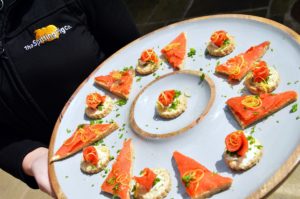 Are you throwing a party, celebration or corporate event? Maybe you're trying to fundraise for an important cause and need a hand making money? Whatever your reasons, you've come to the right place. We are the North East's leading hog roast caterers, providing our services to Chester Le Street, Redcar and more. Hog and spit roasting is a fantastic spectacle and a great way to feed your guests some good, proper, British food. With a host of options we've got something that's good for everyone, regardless of budget.
We're a market leader for innovation, passion, quality and quality. With fantastic produce, expert staff and a wealth of knowledge at our disposal, we'll provide you with a service that's sure to turn heads and make your event that much more successful. With years experience as hog roast caterers, we've worked with and for a wide range of different clients and events, and it's this experience that ensures we can cater at all events, big or small.
We recognise that when planning a big event – whether it's a Christmas dinner or a Wedding – things can get a bit stressful and at times often overwhelming. But with our experience in the field of catering we're more than comfortable taking on this role, in fact we go as far as looking forward to events that most competitors would consider challenging or problematic. It's our eagerness and embrace in the face of challenges that's seen us fast become one of the nations most renowned and popular hog roast caterers.
[peekaboo]
[peekaboo_content]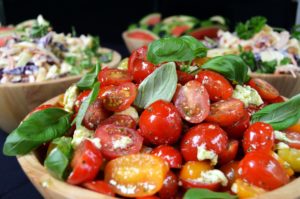 We use the best produce available to us and all of our hog roasts are sourced locally. We have a strong belief in providing food that tastes and looks great, food and service that's of such high quality that it leaves lasting impressions and makes you to a client for life. With a team of professional hog roast caterers that care greatly for what they do, we always make sure that you receive a fantastic service with fantastic food.
We'll provide a tongue tingling and varied menu that will accommodate and impress all of your guests — from pig rolls to sirloin steaks to non-meat dishes, we have something for every person and every type of event.
Our no nonsense pig rolls, for example, are a real hit with rugby teams and spectators across the country. Beyond that, we can offer a range of Michelin star quality side dishes. With our hog roast machine hire being such good value, our specialist hog roast chefs and teamed with the process of spit roasting whole animals and meats to create a taste that borders on the divine, it's really not hard to see why they're so popular.
Every single one of our chefs and staff members are trained professionals and maintain our very high standards. We will arrive onsite several hours before your event is underway to prepare the machines and food for your guests.
[/peekaboo_content]