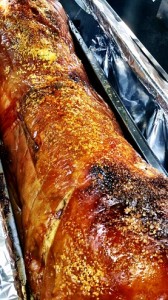 The seaside town of Redcar owes much of its expansion from a little fishing settlement to a bustling busy town to the iron ore discovered in the region. As trade and workers were needed, many settled down in what would become Redcar in the 1800s, and it soon gained popularity as a seaside resort for holidaying Victorians. With nearly eight miles of beach, tourists flocked to the area. In 2006 the town enjoyed some fame on the big screen as the setting for the film Atonement, with some of the locals playing soldiers for the acclaimed Keira Knightly flick.
Just because you live in a seaside town doesn't mean you're stuck with fish and chips. Here, a hog roast Redcar is just as welcome as ever and still adds that sparkle to your event. Nothing is really quite as theatrical as a full roasting hog at the centrepiece of your meal. Our customers are often mindful of exactly how many people a hog roast can feed. Well, of course that depends on the size of the hog! Some of the smaller ones can feed around 50 people, the largest ones more than 300, and our specially designed machines can handle pigs of up to 85 kg.
The Best Hog Roasts In Redcar
One of our more popular catering options is our pork in rolls option; succulent, perfectly sliced roasted hog served in floury buns with our homemade apple sauce. One of our average sized pigs, at about 50kg in weight, can serve up meat for about 160 guests in this manner. Our machines are the preferred choice of caterers across the country. Each stainless steel machine is durable, excellently designed and fully cleanable. The undercarriage is fitted with four wheels and the sides have handles for easy movement. Such mobility is perfect for caterers, being able to be moved from event to event, or into catering vans and out of catering vans with ease. Not to mention, the machine looks fantastic in the clean, professional stainless steel design so often recognised as the look of professional catering equipment where durability and easily sterilised surfaces are incredibly important.
All our machines are arguably the best available for hog roast hire Redcar and sale in the country; each machine is designed by our experts with safety and efficiency at the forefront of the final design. In short, both our hog roasting machines and our spit roasting machines are reliable, easy to use and roast in exactly the right way so you get the perfect roast every time.
If you want to hire a machine, we can provide the pig for you if you need it; if you prefer to source one yourself, we are always happy to give you advice!
Our hog roasts are cooked in full at your event, either by yourself (if you want the pride of cooking a whole hog by yourself) or by one of our specially trained chefs. We supply the pig from regional farms, choosing only the best free range pigs, prepared and seasoned to perfection. The whole pig, depending on the size, can take around 6 hours to cook all the way through, which serves as a great anticipatory event which guests admire as the process continues; but if you're pressed for time, we can cook the pig for you beforehand and warm it thoroughly at your venue. The taste is just as fantastic!
Leaders In Our Field
As we pride ourselves on being food experts, we don't just offer full roasted pig; we can cook any meat you like. Chickens, lamb, beef, turkey, anything you like. Our chef can spice things up a little with exciting herbs and glazes to your liking. At some larger events we have catered for, the event organisers have ordered four or five roasting machines to cook a variety of meats.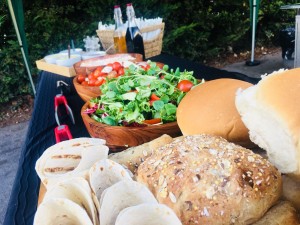 If you're after hog roast hire Redcar for your event at home and are looking to cook the meat and carve it yourself, we are more than happy to hire out one of our professional machines to you for as long as you need it. We deliver the machine to you, sparkling clean of course, and give you the full instructions if you're new to hog roasting; and some tips if you're more of an experienced carver. We will also supply a canister of gas for the machine, and we can supply the meat if you need it. The cooking time depends on the size of your chosen meat, but our full hogs usually take around six hours to cook, and the machine can often be left to its own devices as long as you keep an eye on it now and then, leaving you to enjoy the party. We make hog roast Redcar easy, and delicious too!