A wedding reception hog or spit roast is now an extremely popular way of catering, whether you're having a large or small celebration. You can enjoy delicious food that's been cooked right in front of you, either as an alternative to a traditional sit-down menu or as part of one, where the other courses are served to your guests at their tables. We can supply hog roast or spit roast catering that your guests will be talking about for weeks to come, like with Alex and Ginny's wedding that we catered recently with a hog roast in Ponteland.
Alex and Ginny sat down with us a few months ago, so we could all put our heads together to plan their wedding feast. While we do have several wedding menus to choose from, we're also happy for you to design your own or we can help you put together a bespoke menu, too. In this instance, Ginny had particular ideas that she wanted to incorporate into their wedding food, and Alex was happy to go along with any of our combined ideas, as long as a hog roast in Ponteland was involved!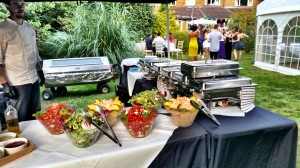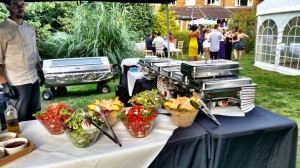 We worked out that for the 70 guests, a 50kg pig would more than big enough, including seconds for any hungry people (like Alex's rugby team!) and the couple wanted us to serve the meat in the form of our hog roast sandwiches, so the hot pork on bread rolls with stuffing and sauces. Additionally, Ginny wanted us to have more serving tables with buffet food, consisting of particular salad dishes, fish and cold meats, plus some desserts. This sounded fine to us, as we have catered hundreds of weddings over the years and supplied great quality food no matter the request. Ginny chose our carrot and orange salad (which comes with a sesame dressing), an avocado and cherry tomato salad, smoked salmon, a selection of cold meat cuts and a couple of our yummy sweets (sticky toffee pudding and profiteroles – mmm!)
We had a great time catering the wedding reception and were even featured in the best man's speech – that's how much guests tend to enjoy our delicious food. Alex's rugby team members helped to devour the huge hog roast in Ponteland and then it was time for us to quietly pack up as the guests danced the night away.