Here at The Spitting Pig, we've catered every kind of event or party you can think of, in all kinds of locations, and from a handful of guests to hundreds of people. Some occasions are much more popular than others, like birthdays or weddings, but if you have a different kind of event in mind, like a christening after-party, for example, you are still able to have a hog or spit roast, as we can cook for any occasion and just about anywhere you like.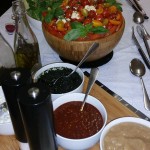 We provided the food to celebrate a little boy's christening on Sunday with a hog roast in Wingate. After the baby's blessing, lots of family and friends poured back to his parents' house as we roasted a nice, fat pig in the back garden. The parents wanted something very different, something very memorable, for this occasion, so that the guests would happily remember it for years to come. Welcoming a baby with this naming ceremony is a joyous occasion for everyone involved and what better way to share your happiness by having a lunch or dinner feast afterwards, especially with a hog roast or spit roast meal? For any special event, we know how important quality food and excellent service both are, so if you're planning food for after your child's christening, know that The Spitting Pig will always go the extra mile.
I arrived at the house on Sunday nice and early, as the christening was being performed in the morning and the food service would be around lunchtime. I prepared the pig in front of the parents by scoring it and adding water and salt, and then carried on checking it while they were at church. Before the guests were due back at the house, I got to work on the fresh salad dishes they had asked for, as well as our homemade stuffing and tangy apple sauce. The parents wanted hog roast rolls to be served, so I also sliced the bread rolls and got the serving table ready.
The happy group of guests returned from the christening ready to enjoy our gorgeous pigs in buns, and that they did, as I stripped the hog clean.