Last weekend, Spitting Pig had the upmost pleasure to provide 230 wedding guests with all the hog they could handle with a Hog Roast in Chopwell. The Bride and Groom got in contact with us stating they were having an outside wedding (perfect timing with being the hottest weekend of the year) and asked if we would be able to cater for their wedding. Of course, we couldn't miss this opportunity!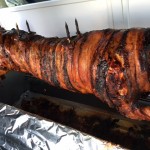 The whole outcome of the wedding was so incredible, the music, the dancing, the people and of course the perfectly roasted hog with all the sides to go with it. We knew that the wedding was going to be a complete success as soon as Amy and Michael got in contact with us and told us their plans. We was able to fit them perfectly in our diary and started to get the ball rolling.
What a turnout this was! The atmosphere was incredible. We were dishing out so much that we were scraping right to the bone to feed all of the fantastic guests. People kept coming back to seconds and even thirds. The most popular choice was the BBQ pulled pork (which is my personal favourite) and every plate was more or less licked clean, they all loved it. The guests particularly enjoyed the fact that we have a range of difference sauces and sides that are able to compliment the delicious, golden brown roasted hog. The whole event turned out perfectly. Once we got packed up and ready to leave, Michael (the Groom) came up to us and thanked us personally for everything we did and mentioned how great it all turned out. Of course we were more than delighted by this, what a thoughtful man.
Once again, Spitting Pig were proud to provide this experience to all the lovely guests and especially the Bride and Groom. Congratulations Amy and Michael! We wish you all the best! Thank you for letting us be involved with a lovely Hog Roast in Chopwell!