July is the pinnacle of BBQ season, it's true. And around this time every year, we see the sale of grills shoot up, as Brits anticipate a roasting hot (pun unintended!) summer filled with cook-outs. But what about when the summer is no longer here? When the icy rain and gale-force winds return, putting a swift end to our garden events? We'll tell you what happens: after a few weeks of sunshine, the BBQ machine gets rolled away into the garage (or hidden beneath a black tarp) until the following year. Rinse and repeat.
Don't get us wrong, we love a barbie as much as the next Brit. But let's face it, the grills themselves are neither affordable nor versatile. I mean, wouldn't it be great if you had a machine that could be used to cook up a mean barbeque in the summer, your Christmas dinner in the winter, and anything else that takes your fancy in between? A machine that could be used indoors or outdoors? Well, that's exactly what Hog Roast Eastfield is offering.
Yes, as well as being the North East's leading mobile caterer, we also hire out and sell our machines to small businesses and members of the general public. And, unlike traditional grills, our devices are lightweight, compact and very easy to move around, so you'll never have difficulties storing it when it's not in use.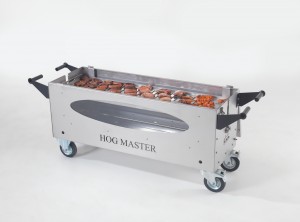 Designed, developed and made right here in the UK (in our very own factory!), Hog Roast Eastfield machines are also created using the highest quality materials, ensuring their longevity and reliability. Our team will teach you how to use them, and our catering manager, Stephen will supply you with plenty of advice in the lead up to your purchase. On top of that, we've also got a variety of models on offer, so you'll be able to select one that best suits your individual needs, and to make your cooking experience all the more personal, we've even created a vast assortment of add-ons and accessories for our devices.
So, this year, why not break the mould and stand out from the crowd by investing in a Hog Roast Eastfield machine? For help and advice, give our team a call today!