Getting married is a pretty big deal. In fact, it's one of the biggest life experiences a person will ever go through! But as a result of the never ending to-do list, planning the special day can also be incredibly stressful, to boot.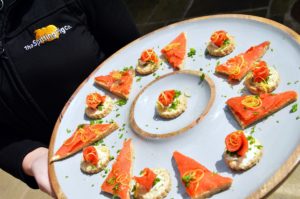 Yes, with so many decisions to make, vendors to call, and people to please in the lead up to the big day, we understand that the road to tying the knot is often paved with great difficulties. But hey, you knew that already, didn't you? What you probably didn't know, however, is that Hog Roast Eastfield can make your wedding prep a far more pleasurable and relaxing experience. So, if you're tired of being messed around by caterers who not only charge a fortune for their services but are also unreliable, and you're worried that you won't be able to find the perfect venue for your special day, then you're going to love what Hog Roast Eastfield has to offer – we just know it!
As the undisputed champions of the hog roasting industry, our team certainly has a lot to offer in terms of culinary talent. However, on top of being the North East's go-to mobile catering supplier for succulent spit-roasted pork with all the frills, we also offer some incredible dining solutions that don't involve pork. That way, carnivores, herbivores and even those with strict dietary restrictions can feel taken care of when we're in the mix.
Our catering manager, Stephen, is the kind of guy for whom nothing is ever too much trouble – especially when it comes to our customers and clients! So, you can book Hog Roast Eastfield with confidence, knowing that we'll make sure your event is all about you. We can even put you in touch with some of our amazing partner venues, saving you the trouble of sourcing your own. And the clean up? Forget about it – we'll take care of that when the celebrations are over.
So, you see, at Hog Roast Eastfield, we're more than just your average catering service. We're the complete package, and all you have to do is sit back, relax and enjoy the ride. So, what do you say?