Hog Roast Cornforth was delighted to be part of such a special moment in the lives of our customers Sam and Diane as they tied the knot in a wonderful occasion for all. Thankfully, the sun seemed to be here to stay from last week so we were able to enjoy the day's wedding reception in the bright shining outdoors which is where we love being most at Hog Roast Cornforth.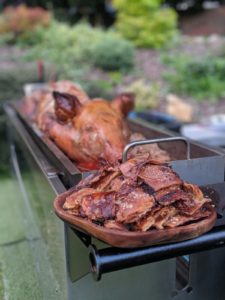 Following on from their wonderful service we were able to treat friends and family of Sam and Diane's to a classic hog roast catering experience. Over the past year it hasn't be as easy to get out to doing what we love best, so it was great for us too to be firing up the Titan hog roaster once again in front of a crowd of guests. With this sun at our backs we got to work putting on delightful display of sizzling spectacle and traditional hog roasting. Sam and Diane cleverly opted for our newer Alfresco Wedding Menu which was perfect for the outdoor occasion. While getting our full complement of Antipasti Platters and of course the classic hog roast main, Sam and Diane threw us a curveball or two with changes to the menu, which Our Catering Manager was of course only too happy to fulfil. We love to be flexible and meet a challenge here at Hog Roast Cornforth after all!
The Alfresco Dining menu was ideal for the sunny affair as it allowed our guests to enjoy light, summer foods at their leisure while also remaining in the safety of the outdoors. With our Mediterranean inspired antipasti platter, it was like being abroad at home! And, of course, the outdoor dining was also ideal for our stringent COVID safety measures which we always keep a strict adherence to for yours and our benefit. We want desperately for proper event dining to return again as it once was so we make sure to keep doing our bit to keep our communities and customers safe so that we can get back to the full Hog Roast Cornforth catered experience as soon as possible!