When hosting a party for your loved ones, whether that's a birthday, engagement celebration or after a christening, you may find that you need alternatives to the main food that everyone else will be enjoying. Despite being a hog roast Wingate company, we're used to catering for lots of different dietary requirements, including vegan, vegetarian, and gluten-free, as well as offering many other menu options for your special occasion. If you need a simple hog roast Wingate and veg or our pigs in buns, that's fine, but we can also provide you with all kinds – like canapés and a fancy sit-down menu, a dairy-free dessert or a vegetarian flan – whatever floats your boat!
Talking of boats, earlier today we helped Frank and Rosemary celebrate the special occasion of him retiring from the Navy after many years of service, and they asked us to cook one of our winter warmer hog roasts Wingate at the family home. With two vegetarian daughters and Rosemary herself needing a gluten-free dish, we discussed the options with the couple when they booked us in. Rosemary would be able to eat all of the meat, vegetables, potatoes, stuffing, apple sauce, and gravy, just like her guests, as these were already suitable, so that was one down, two to go. The daughters could still enjoy the roasted root vegetables of swede, carrots and parsnips and our garlic new potatoes, and we would make them a French onion tart, too.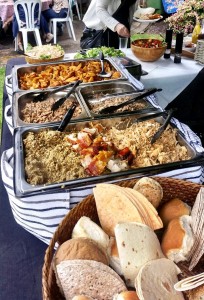 On the day of the retirement party, we set up our equipment in the back garden of the family home and got to work preparing the meat to be slow-roasted for a few hours. There would be around 30 guests of family and close friends, to be served a hog roast Wingate later in the afternoon. An outdoor get-together at this time of year can be chilly to say the least, but that's where our winter warmer can help.
Once the guests had all arrived, the gorgeous hog was finally resting and the vegetables, potatoes and tarts were lovely and warm and waiting to be served. The queues began and we were off, slicing off chunky bits of crackling and juicy pork, and filling plates with plenty of taste and goodness.