While you may well know Hog Roast Spennymoor as experts in catering, providing tasty food for all kinds of occasions, we are also dedicated to providing the best in hog roast machine hire too. We rent out our equipment to both professional caterers like ourselves as well as budding domestic chefs and with our range of high-spec stainless steel machines, the latter can easily learn to cook like pros too!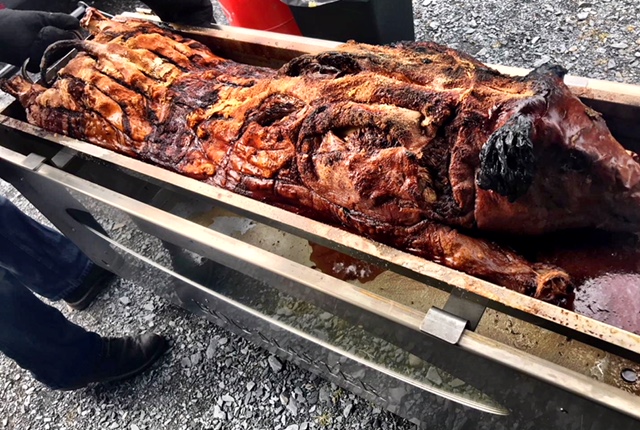 Our machines are really easy to use, though one of our dedicated chefs will still walk you through the one you hire from us so that you're comfortable with using it, and they're easily manoeuvred, lightweight and highly portable, so you can take yours with you wherever you go. Hog Roast Spennymoor occasionally caters in out of the way locations and with these specifications, as well as the fact that they run on gas so you don't need mains electric to cook with one, it's easy for you to if needed.

Speaking of out of the way locations, our long-term customer Richard recently hired a Hog Roast Spennymoor hog roasting machine so that he could cater a client's wedding day in a farmer's field. With more than sixty guests invited to feast on his own style of pigs in buns as well as some additional food (and some of it he cooked inside our machine while the hog roasted away above), Richard knew one of our trusty machines would be the perfect rental choice for this special occasion.

We actually make our own range of machines, which we designed, and they're built by hand in our Lancashire factory, and these are the ones that we hire out. They each have their advantages but one thing that they all have in common is that they all cook amazing food that customers and their guests love.

For the wedding that Richard catered, a large hog sizzled away to perfection for hours while jacket potatoes and various seasonal vegetables all cooked beautifully inside the machine. He told us it was a wonderful wedding, with lots of happy guests enjoying his tasty food, and he's now thinking of buying one of our range so that he can cater in this way much more often.