Hog Roast Alnwick catered Lorna and Eric's engagement party locally over the weekend, where we cooked up a feast for the eyes and the palate with some fantastic dishes. While we are famous for our hog and spit roasts, we can provide so much more too if needed, and for this special occasion, we were asked to make a three-course meal, preceded by a welcome reception of drinks and canapés.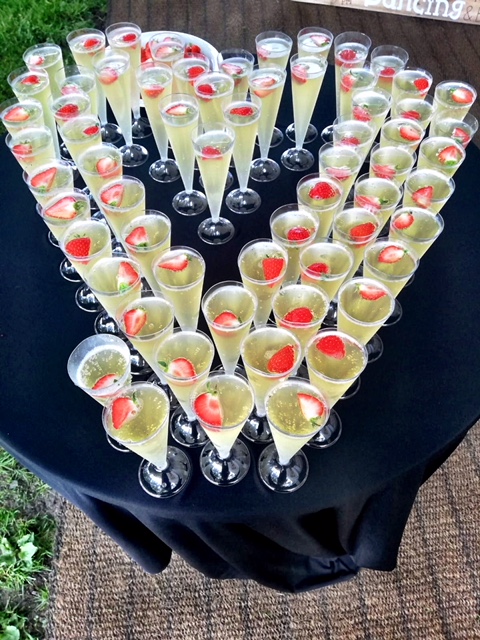 When Lorna and Eric asked us to provide the catering for their party, they already knew us from past events, and had both loved our pigs in buns, so they knew they wanted those for the main course. Our pigs in buns are tasty, hot, fresh meat and crackling stuffed into bread rolls and wraps, garnished with our homemade sage and onion stuffing and apple sauce, and then devoured by you and your guests before you head back to us for more. We've spent years perfecting them, and long-term customers such as this lovely couple know that they are a real treat for all the senses.  

For this engagement party, indoors at a large local hotel, though we would be cooking outside, Lorna and Eric also asked Hog Roast Alnwick for six canapés to be served first, including mini quiche, mini burgers, dim sum, chicken satay, an Indian selection and fillet of beef, followed by a sit-down starter of smoked salmon, prawns and avocado, then the pigs in buns, and finished off perfectly with two of our handmade desserts – summer pudding and profiteroles.

On the day of the party, our Hog Roast Alnwick chef and catering assistants set up our equipment outside in the hotel grounds, right by the dining room where we would be serving our scrumptious food. Before long, we had a large, fresh hog sizzling away for several hours, slowly but surely, which would satisfy the fifty guests even if they wanted seconds or more.

By 6pm, Lorna, Eric and their guests arrived to the mouthwatering aromas created by the hog roast, and a sight for sore eyes, but they would have to wait for it to be ready. Meanwhile, they happily feasted on our delicious canapés and starter, and then finally, it was time for everyone to queue up for the highlight of the evening – our amazing pigs in buns.