In the last stretch of the Halloween festivities, Hog Roast Edlingham made an appearance at a local high school, where we mesmerised students with our delectable Southern Slow Roast Menu.
The high school students had decided on a classic horror theme for their Halloween disco, donning costumes that paid homage to the likes of Dracula, Frankenstein's monster, the Wolfman, Werewolves, Aliens, and even the eeriest of all, clowns! It was a night where the line between reality and fantasy blurred, making the event even more fun and unforgettable.
As the night unfolded, the school's gymnasium transformed into a dance floor, pulsating with energy thanks to a DJ spinning beats that resonated with the young souls. The atmosphere was electric, a perfect backdrop to the feast that awaited. And what a feast it was! Hog Roast Edlingham, led by catering manager, Jarrod, had spent the entire afternoon preparing a buffet to wow the fancy-dressers.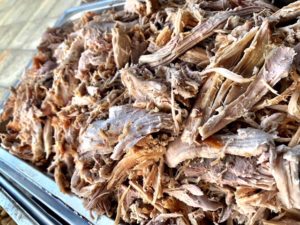 Our culinary creations featured a triumphant trio of meats: succulent pre-marinated pork butt, flavourful beef brisket, and sticky pork ribs, each infused with Southern flavours. To cater to all preferences, we also whipped up BBQ-pulled jackfruit rolls topped with coleslaw, ensuring our non-meat-eating guests had a scrumptious option to enjoy.
Accompanying these delicious delights were an array of delectable sides, including crisp Greek salad, creamy mac and cheese and a medley of mixed sweet potato and regular fries. For those with dietary conditions, we offered gluten-free rolls and wraps, neatly arranged in baskets for guests to help themselves.
To enhance the overall experience, our food was presented on wooden crockery and cutlery, adding a touch of rustic elegance to the event. And our commitment to reducing waste shone through as we diligently tidied away after the meal, ensuring the venue was left spotless.
In the spirit of giving back, we didn't stop there. At the organisers' request, we carefully packed any remaining delicacies and delivered them to a nearby soup kitchen, spreading warmth and nourishment beyond the bounds of the high school walls.
As we bid farewell to this spine-tingling night, our hearts swelled with gratitude. Being part of such a memorable event, where creativity, community, and culinary delights converged, was an experience we'll cherish. Until the next Halloween adventure beckons, Hog Roast Edlingham remains ever-ready to bring flavoursome enchantment to every occasion!