After several weeks of non-stop rain showers, we had given up on summer altogether, but earlier this month, the grey clouds dispersed, granting us Scots a week of balmy temperatures and azure skies.
We were all happy to see a bit of sunshine for a change, but no one was more pleased than Gillian and Ian. The couple, who tied the knot on one of the hottest days of the year, were thrilled with the warm weather. It allowed them to make full use of their historic castle venue and snap some gorgeous photographs on the castle's well-clipped lawns.
With the weather being so uncharacteristically gorgeous, they also opted to take their dining outdoors, which was no trouble for our Hog Roast Capheaton caterers. Our lightweight and robust machines can be set up anywhere, so this last-minute change of plans was no trouble for us.
As the sun bathed the venue's picturesque grounds in its golden glow, our caterers served our Alfresco Wedding Menu in the sunshine, creating a dining experience that would be etched in the memories of all in attendance. The menu was carefully curated to offer a delightful blend of flavours and choices for all the guests.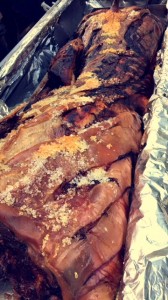 The centrepiece of the feast was Hog Roast Capheaton's iconic whole-roasted free-range pig with crackling, stuffing, and applesauce accompaniments. For the veggie and vegan attendees, we served meat-free BBQ-pulled jackfruit rolls with a delicious plant-based 'slaw. Appeasing every palate, our mixed fries, coleslaw, and salads provided extra flavour and substance to the meal.
To add a touch of elegance, we also served a charcuterie board filled with a delectable selection of Italian meats, cheeses, artisan breads, and nibbles to each table, allowing guests to graze at their leisure.
As the day turned into night and the stars began to twinkle, guests were presented with a choice of desserts: a rich chocolate torte or a creamy cheesecake, satisfying sweet cravings for all tastes.
Later in the evening, after the couple's enchanting first dance, Hog Roast Capheaton ceremoniously sliced up the wedding cake, serving each guest a generous portion accompanied by a dollop of fresh cream and a spoonful of ripe berries. It was a sweet ending to a day filled with love, laughter, and the unexpected gift of Scottish sunshine.