Catering in our hometown last weekend for a carnival with Hog Roast Byermoor. We were asked if possible we could cater for one thousand and we said it wouldn't be a problem at all. We cater for large parties as well as small and numbers never faze us. We brought with us a van full of food and there was no time to waste!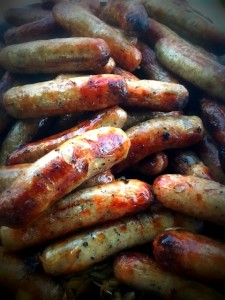 We placed lots of sausages and potatoes on one machine and chicken legs and breasts on the other, our machines can fit so much food on and everything is cooked perfectly and evenly nothing comes close to hog roasted food. We then set up our huge side table and filled it with condiments and baskets of fresh bread buns of every variety. We then made some salads and coleslaw we make everything from scratch and like to go that little bit extra for guests. We then placed lots of freshly baked sausage rolls, quiche and mini pasties on serving dishes so there was plenty for everyone to enjoy. We were told to cater for a thousand guests but we brought extra as more tend to come than expected.
Soon we had crowds gathering and we began to remove the meats from the machine the chicken was tender and succulent so moist and oozing with goodness. The sausages were fantastic pure beef and from our award winning butcher who makes the best sausages ever in an assortment of flavours too. The potatoes were light and fluffy and we filled them with an assortment of fillings such as cheese and onion and tuna and sweet corn. The pastries were a huge hit too and lots were asking us about the food and asking if we had any cards as they would be keen to book us for up and coming events. We chatted to lots of guests who telling us the Hog Roast Byermoor food tasted amazing and the organiser of the event was ever so grateful and said we had did an amazing job and he couldn't believe how professional we were at getting the crowd down so quickly. A wonderful day was had by all.