While we may not be able to host our usual events right now, this isn't stopping us from providing delicious catering that abides by government guidelines. Instead of catering for events, we are currently offering our gourmet meal delivery service! This is the perfect way to get your fix of Hog Roast Helmsley catering, from the comfort of your own home.
Our gourmet meal delivery service couldn't be easier to arrange. All you have to do is decide on your menu, book your delivery slot, and wait for us to deliver your meals. The hardest part is deciding which dishes you want to order from our extensive menu! We can provide our meal delivery service any day of the week, including delicious Sunday dinners and perfect mid-week treats.
Hog Roast Helmsley catering is far more nutritious and delicious than your usual take away options, making it the perfect choice for households looking for a change from their usual routine. We prepare our dishes on the day, using high quality, fresh ingredients for every meal. This provides you with incredible tasting food, without the stress of prepping, cooking and cleaning up!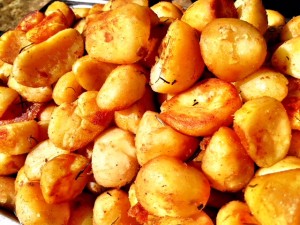 We have many dishes available, with our delicious Sunday dinners proving to be very popular. You can choose your preferred meat, which is served with all of the usual trimmings, including roast potatoes, vegetables and stuffing. Our meats are all slow-roasted to perfection, including whole-roasted pigs, chickens and lamb.
Once you have decided on your meals and booked your delivery slot, our drivers will drop your catering off at the doorstep. Our deliveries are always contact-free, which follows the current government guidelines for takeaways.
Are you interested in getting Hog Roast Helmsley meals delivered to your doorstep? If so, get in touch today to arrange your menu and drop off slot. Simply fill out the enquiry form on our website and we can sort out the rest! We are also taking future bookings for our regular catering services, so register your interest today to avoid disappointment.