Let's throw it back to spring 2019, before covid turned everyone's lives upside down and brought a grey cloud over the last year. Spring 2019 saw a mixture of British weather, but then again when is British weather ever predictable?! Thankfully Angela's 85th birthday fell on a sunny Sunday where she celebrated surrounded by her family and friends and helped by Hog Roast Crook.
Hog Roast Crook wanted to make sure that Angela had a wonderful 85th birthday so provided her with a personalised card and creamy galaxy chocolate bar…. And of course, amazing food!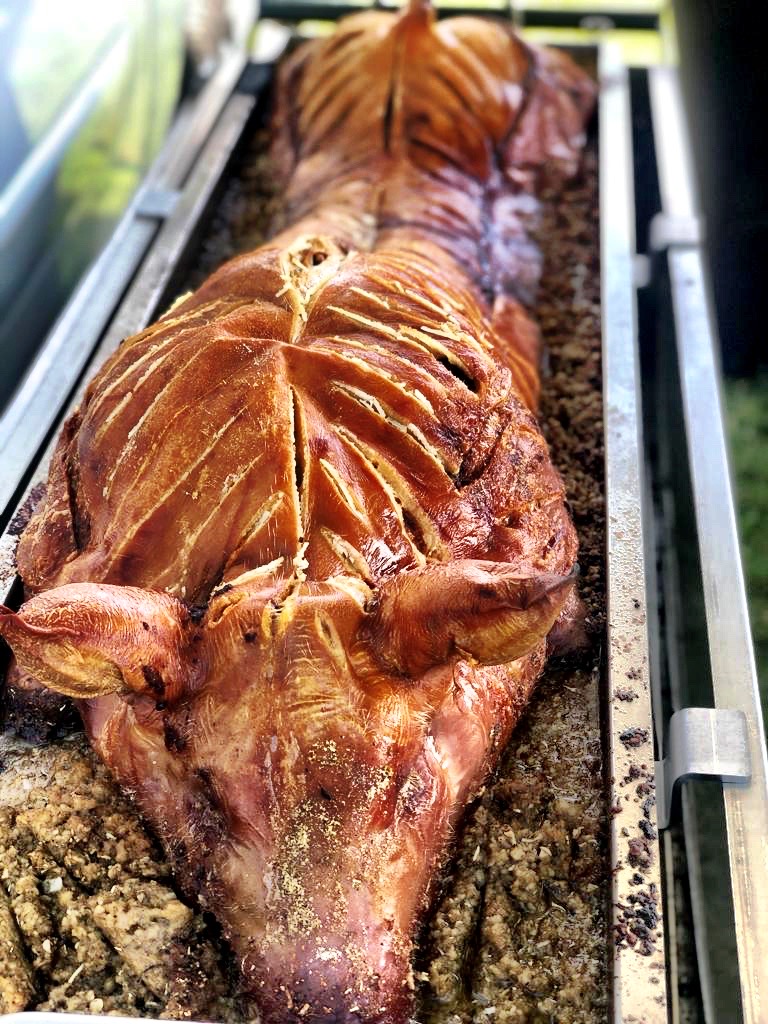 Angela booked Hog Roast Crook's menu 4 which entails a whole roasted pig, three salad choices and a potato option. The hog roast certainly took centre stage, especially for Angela's grandchildren who couldn't believe it was an actual real-life pig! They found the pig's tail particularly hilarious. The pork was cooked to perfection, easily falling off the bone and really juicy. The sage and onion stuffing complimented the meat being cooked in the pig's juices and making it completely flavoursome. The crackling was very crunchy, much to Angela's delight and quoting the birthday girl 'Crackling's the best bit!' – Hog Roast Crook catering manager agrees with this remark!
The guests thoroughly enjoyed the hog roast and enjoyed the delicious side dishes. The birthday girl had chosen Hog Roast Crook's crunchy and creamy coleslaw, classic Caesar salad and cherry tomato and buffalo mozzarella salad with fresh basil and a dash of extra virgin olive oil. Each as equally tasty as the other, all went down well with guests. Angela selected Hog Roast Crook's herb-buttered new potatoes – yum!
This incredibly nourish spread was served on real crockery and cutlery. Hog Roast Crook wraps the cutlery in napkins to make it easier for the guests to carry the plate and cutlery back to their designated area.
The sun was shining, laughter filled the air (as well as the amazing smell of Hog Roast Crook's food!) and Angela couldn't have been happier. Do you fancy something similar to what Angela had? We may not be able to promise you the sunshine, but we can promise you delicious food and fantastic service, why not enquire now?