Hosting an event is a fantastic way for both new and established companies to spread the word about their services and generate interest from consumers, and last Tuesday saw building materials giant, JT Dove host a trade show at their branch in Stockton which featured stalls from local specialists. Hoping to make the event a memorable one, branch manager, Peter had reached out to Hog Roast Carlton a few weeks in advance and asked us to serve our irresistible classic hog roast menu, and as always, our team was raring to go!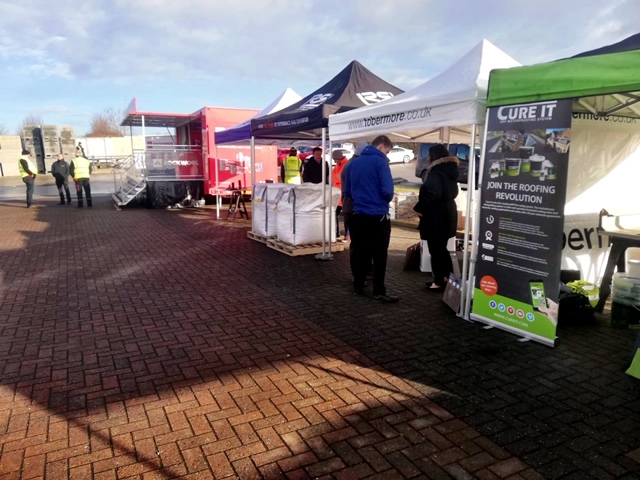 Arriving at Portrack Interchange Business Park at the crack of dawn (literally!), our enthusiastic team of catering professionals launched themselves into preparing the food for the day. Fortunately, the weather was on our side for once, and after pitching the gazebo, the Hog Roast Carlton crew turned their attention to the whole pig which needed to be evenly scored, rubbed down with salt and slow roasted in our Hogmaster Pro before the 10am serving time!
Having catered for more events than we can count, our team remained calm under the pressure and enjoying the rare sunshine, they effortlessly rustled up the meaty feast which they served in gluten-free rolls alongside accompaniments of our famous homemade sage and onion stuffing and sweet applesauce. The other stalls, which represented a selection of different companies, offered guests the chance to indulge in discounted products and services as well as free samples, and for extra entertainment, the client had also arranged exciting competitions and raffles with prizes for the lucky winners.
The client was over the moon when Hog Roast Carlton presented him with the finished result, which was ready just in time for the first guests to arrive. Once again, our succulent pulled pork, savoury stuffing and crispy crackling was an award-winning combination which had the guests hooked from their very first bite, and during the three-hour time slot that had been allocated for refreshments, the catering crew served up more than 75 portions of our signature menu!
Since then, we've heard back from Peter who wanted to thank James and the rest of the Hog Roast Carlton team for helping to make the event a success.