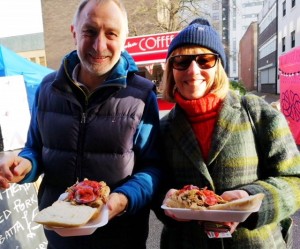 Hog Roast Durham is renowned in this area and further afield for providing stunning hog and spit roasts for any kind of special occasion. Whether you're celebrating a milestone birthday, your wedding day or a corporate event with hundreds of guests, or anything else that you may have in mind, we create gorgeous homemade food that will impress all those attending and provide professional service with a smile, too. What you may not know is that Hog Roast Durham can also produce other kinds of food for your party or event, including alternative dietary options and bespoke menu items, and for the Bishop Auckland Food Festival 2018 we provided something a little bit different but something that our customers agreed on that was very, very tasty.
Alongside many other artisan food producers and street food traders, our team at Hog Roast Durham were very excited to attend this year's Bishop Auckland Food Festival in the Vale of Durham, to roast one of our gorgeous hogs and create porchetta Italiana, in addition to roasted potatoes and veg. Porchetta is an Italian-style, savoury, juicy, boneless pork roast, and we needed to get to the festival early on to start slowly roasting the huge beast to perfection.
This year, the location for the festival was the market place in front of Bishop Auckland's town hall, and on the first day of the festival, we got there hours before opening, when it was still dark outside, to start preparing the meat and to set it cooking. Once we've done all the prep work, the machine does all the hard work, slowly but surely roasting the meat until we get lovely salty crackling on the outside and soft, juicy meat inside. Plus with this porchetta, we had stuffed it with garlic and herbs for that extra taste.
By the time the festival opened to customers
at 10am, our amazing porchetta Italiana had cooked beautifully and had filled the surrounding air with delicious, meaty aromas. We had queues all day long, and we loved serving porchetta ciabattas for a change. While we often serve hog roast rolls using fresh, floury bread rolls and wraps, the ciabattas proved very popular at this festival, as did the different style of roasted meat. The porchetta ciabattas went down a storm at this festival and we hope to see everyone there again next year!