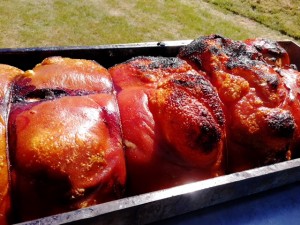 When Hog Roast Hexham caters a wedding reception, we work hard to ensure that the food on your big day is a resounding success, as we know how important it is to our customers. On your special day, you want your guests to be happy and well-fed, and so do we, which is why we offer so much variety and go the extra mile to provide delicious food that everyone will enjoy. We are passionate about using fresh, quality ingredients to make food that will make you want to go back for seconds and sometimes even more!
Just recently, Hog Roast Hexham was asked to cater the wedding meal for Hope and James, at Hexham Winter Gardens, which is a magical venue. This gorgeous, spacious former glasshouse is a stunning venue for weddings, wedding receptions, ceilidhs, informal concerts and all kinds of private functions, and is something your guests will remember for years to come – just like our amazing food!
The couple's menu would include lovely canapés to be served first, and a main meal of porchetta, rosemary and garlic roasties and three freshly-prepared salad dishes. Additionally, vegetarian guests would be fed well with our tasty veggie skewers, which have halloumi, mushrooms, tomatoes, red onion and mixed peppers. We would also be serving two of our scrumptious homemade sauces – apple and chilli sauce and tomato and basil, which are always a big hit with our customers and their guests. Following the main course, we would serve the lovely wedding cake, plated and dressed with berries, Chantilly cream, and a fruit coulis, as well as fresh fruit platters.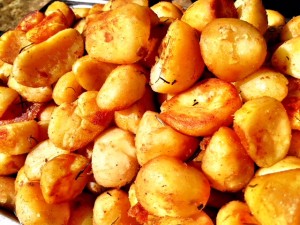 Our Hog Roast Hexham team, including Head Chef Mandy, Gail, Andi, Chloe and Angela, all arrived in plenty of time before service, to freshly prepare the food on-site on this lovely sunny day. There can be nothing better than food that is cooked right in front of you and then served while hot and fresh, and on this day, the smiles on the guests' faces as they enjoyed our food said it all.
Hog Roast Hexham loves to cater weddings, so if you're planning yours, give us a call and see how we can help make it a big success.