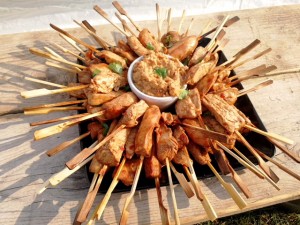 It's not long now until the end of summer, and Hog Roast Scarborough is still busy with plenty of weddings. We do cater for weddings all-year-round, however, with some customers even enjoying a hog or spit roast in the snow, but just recently we catered a festival-themed wedding in a Scarborough field, where torrential rain hit but luckily that was after the food had been served rather than before or during!
For Vicky and Ian's festival-style wedding reception, we were asked to first serve a selection of our delicious homemade canapés such as chicken satay with a peanut dip, as well as our mini pizzas and mini Yorkshire puddings filled with roast beef. We would also be serving a 'half and half' menu – half hog roast and half barbecue, with the half a hog roast served with crackling, stuffing and apple sauce, as well as bread rolls to make scrumptious pigs in buns. Our pigs in buns are made by stuffing pieces of mouthwatering meat and bits of salty crackling into bread rolls and wraps, topping with our own apple sauce and stuffing and then handing over to the guests to add their own choice of sauce. The barbecue would feature Cumberland sausages and burgers with 'build your own burger' toppings and our homemade barbecue sauce, as well as herby, buttered new potatoes, corn on the cob and a selection of salad dishes. No one would go hungry at this feast!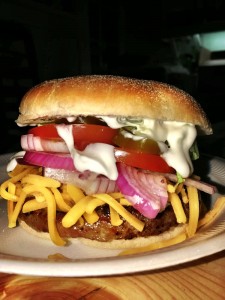 On the day of the wedding meal, well before the bad weather, our Hog Roast Scarborough team arrived several hours before the food service. After setting up our equipment, we got on with preparing the hog to be roasted, as it takes ages to slowly sizzle to perfection. The field looked just like a festival, with a stage for the band, bales of hay to sit on and rustic-style extras like tables made from wood placed across beer barrels. Hog Roast Scarborough just finished serving as the rain hit, but the horrendous weather didn't seem to spoil the rest of the party, as we discreetly cleaned up and left them to their fun.