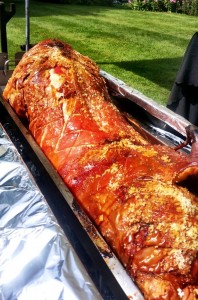 Peterlee is a busy – originally coal mining – town in the north of England, where we find our hog Peterlee catering is incredibly popular. We pride ourselves on our professionalism and high standard of accessibility and direct contact with our customers, and here it is no different. While we are providers of excellent catering, delicious menus and perfect hog roasts, we are always keen to provide excellent service from the very beginning of your experience with us. We are always happy to answer any queries by phone or by email, and happy to help you out all the way through your time with us. It's no wonder with our professional and friendly service that we have so many repeat customers here!
Rain or shine, we are able to deliver a fine hog roasting experience to your event. We can cook a hog roast inside or outside, whether it's for a summery barbeque or for heating up cold bellies in winter. A hog roast Peterlee event is one that does not succumb to wind, rain or sleet the British weather is so eager to serve up. Our hog roasting machines can be moved inside or out with relative ease, being specially designed as sturdy and eye catching machines which also have wheels on the undercarriage and handles to pull it around easily. So if the heavens open, your roasting hog can be pulled under a marquee or up a ramp and inside.
The Best Hog Roasts In Peterlee
The method of turning the spit as the meat cooks is another image synonymous with that of hog roasts and hog spits. The spectacle of a hog roast is reminiscent of great medieval feasts, often shown in films and television; certainly it brings an extra spark to your event; children are often delighted to see a whole roast hog cooking slowly and like to pretend they are medieval knights celebrating a battle. It must have taken some real elbow grease to pull a whole cow around and round a spit; but the movement is essential to ensure every part of the meat is cooked thoroughly and crackled in all the right places. Fortunately, those wishing for a hog roast Peterlee won't need to worry about constantly turning a spit for hours when they hire one of our machines. Each machine is equipped to turn a whole hog round and round without assistance, cooking the meat to that perfect level of succulent, moist tenderness that is difficult to achieve any other way.
Given that we specialise in hog roasting, it often comes as a surprise to customers that we cater to those we prefer not to eat meat, need gluten free food or have certain food allergies. We believe that there need be no extra fuss when some of your guests have restrictive diets, and are always happy to provide meat free alternatives with no problems. We are experts in delivering delicious food, and that is not limited to cooking perfectly roasted hog roasts! Simply let us know how many guests you expect with restrictive diets, and we can show you that they are not restrictive at all!
Leaders In Our Field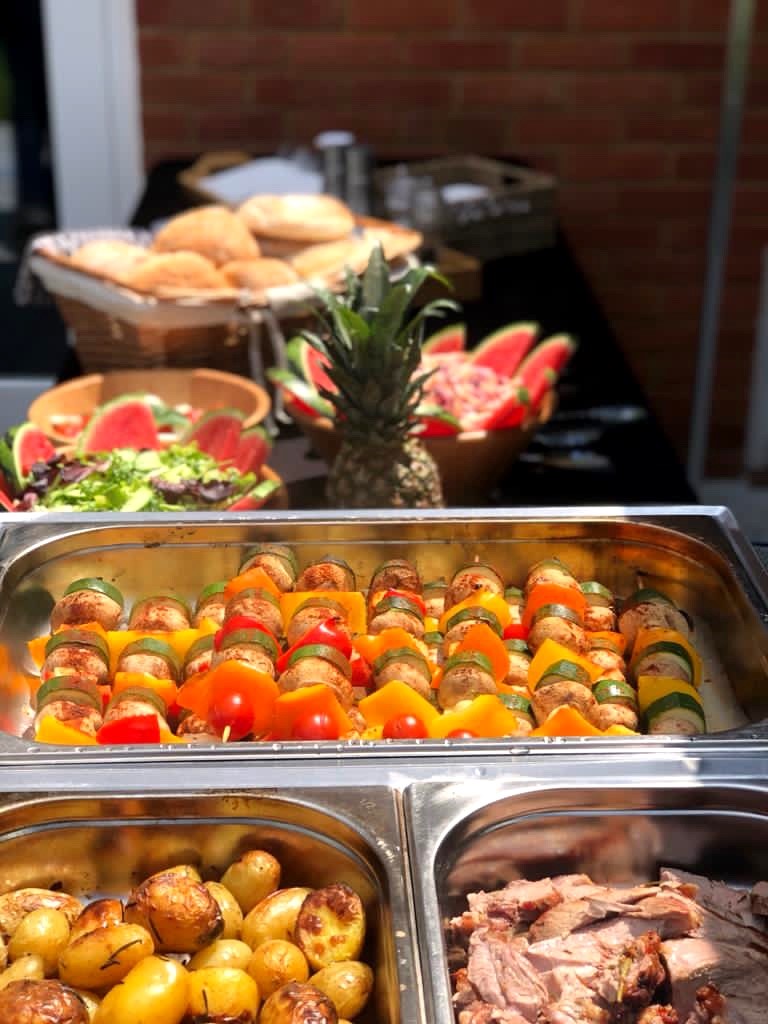 With hog roast hire Peterlee, people are often surprised with how much meat we can carve from a hog roast. The reality is; quite a lot! We have catered for functions with hundreds of guests, and venues for only a handful. We can arrange beforehand exactly how big you want your pig to be according to the number of guests or exactly which menu option you choose, but our machines are designed to cook huge pigs and hundreds of guests depending on your catering choice. We are always happy to cut off any leftovers and leave them out for your guests, so there is no need to worry about any waste. In our experience, your guests will be all too eager to help you out with those leftovers too.
From the very beginning of your hog roast hire Peterlee, we are proud to offer the best service. We are always eager to answer any questions you might have over the phone or via email, and when you hire a hog roast and chef we put you in direct contact with the chef who will be overseeing the catering at your event. You don't need to be jumping through hoops to get to the people that matter, and we are often commented on our direct and concise contact system. To us, your event matters, and we want it to go off with a bang with minimal fuss!