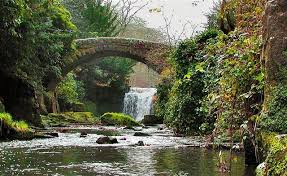 Among local historians in Jesmond there's a tradition than in the early years of the second millennium, not long after the Norman Conquest, the Virgin Mary appeared to the townsfolk to bless them with the benevolence of the Lord. I'm no expert on mystical apparitions, but I can tell you all about something else that's practically miraculous and has been turning up all over the area in recent years – yes, I'm talking about the unbelievably good hot roast pork sandwiches served up by hog roast Jesmond!
Now there's a blessing to the local people. And where in times gone by pilgrims came to the town to visit the site of the holy visitation down by the river, in the 21st century people are beating a path to our locality to sample the amazing roasted meats dished up by Spitting Pig North East. They probably take the same route – out along the Great North Road, where it's still known as Pilgrim Street to this day. Once you've sampled the quality of the fare hog roast hire Jesmond are cooking up you too will come to understand why people flock from miles around to sample the delights turned out by our Spitting Pig roasting machines.
We use only the finest rare breed hogs from the best local butchers and farms so you know that you're not only getting a top quality product but a top quality local product that supports the economy of the area. And it's not just hogs; we also provide excellent sides of beef, whole roast lambs, turkeys, chicken – in fact, you name, we can roast it. Our majestic roasting machines can handle any meat you can get you hands on – it's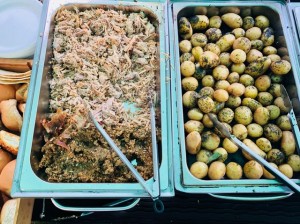 as simple as getting it on the spit and setting burners to roast. It's so simple to get amazing results with our machines that even rent them out – if you want to act the pro for the day, you can hire a Spitting Pig roaster from hog roast hire Jesmond and be cooking up a feast in no time! We'll even do the drudge work for you, so as far as you're concerned there's no lifting and carrying, no setting up, no cleaning or clearing away – we do the boring bits so you can concentrate on preparing a meal to remember for your guests.
The Best Hog Roasts In Jesmond
Of course, if you want to socialise and be the belle of your ball, we can handle the cooking and serving for you – no job too big, because our highly professional team prides itself on rising to any catering occasion. Whether it's a buffet for 80 or a sit down three course meal for 500, Spitting Pig North East's chefs and service team guarantee a happy crowd of satisfied and well fed guests every time and only the highest standards of service. Don't take it from me – read the testimonials on our site and you'll really get a feel of how successful an operation hog roast Jesmond is. And while you're looking around, if it is a formal sit down meal you're after, take a look at our set menus to get an idea of the range of what we're capable of here at Spitting Pig.
It all began with our famous roast meats, but with years of experience of events catering under our belts we're confident that we can turn our hands to anything. The menus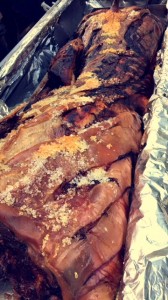 we've put up are only a sample – if you have a special request give us a call and we'll almost definitely be able to accommodate it. We can provide the most delectable canapés; our mini burgers, pizzas and quiches always go down a treat and the handmade gourmet sausages we make are something to be seen, and will follow it up with starters ranging from seasonal soups to the finest delicate smoked salmon and hams.
We needn't even mention the mains; when it comes to roasted meats our reputation precedes us, and if you're reading this far then I think it's safe to assume that hot tender pork is featuring highly on your list of possibilities, but it's also worth remembering that we can also do all manner of fish and vegetarian dishes to suit different tastes and dietary requirements. And there's a whole range of desserts available too, from the lightest of fresh fruit salads to proper hearty rib-sticking numbers like our sticky toffee pudding that has to be seen to be believed. Finish it off with tea, coffee, mints – another winner from Spitting Pig North East.