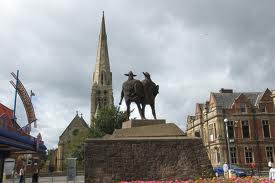 Jarrow took its place in history in 1936 when 207 locals, forced out of work by the closure of the shipyards, walked almost 300 miles over the course of a month to London to protest against the actions of the government of the day and the way in which the poor were affected by the Great Depression. Now, you can't march on an empty stomach, so my advice to anyone attempting to repeat their feat – get in touch with hog roast Jarrow before you set off and we'll set you up for a long walk with the ideal meal for those on the go.
Catering for 207 is no problem for us at Spitting Pig North East; whether you're feeding 207 and 2007, we've got the resources, the roasting machines and most importantly of all the finest of locally reared rare breed hogs to set up your guests for any adventure. My question is, with Spitting Pig on the scene these days, why leave Jarrow at all? I personally wouldn't want to take myself away from easy access to the roasted meats cooked to perfection by hog roast hire Jarrow, and if you've tried our wares you'll understand why.
The Best Hog Roasts In Jarrow
Our Spitting Pig roasting machines cook the hogs we choose to perfection slowly over a six hour period leaving the meat inside beautifully tender and juicy and crisping up the skin on the outside into faultless cracking that gives the rolls we put together a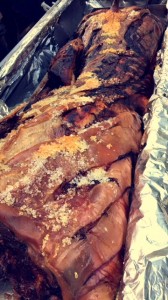 toothsome crunch. And it works a treat on turkeys, chicken, lamb and beef too – until you've tried you're roast meats cooked the Spitting Pig way you can't really say you know what a roast is supposed to be like. With our kit, our supply chains and our years of hard won expertise we proud to say that we cook the best roasts for miles around, so if you need to guarantee a good response then choose hog roast hire Jarrow every time.
No event is too small or too large; we're perfect for events from 50 people to 10,000 and any number in between. So whether you're organising a birthday party for close friends or a work Christmas do for hundreds of colleagues, a local fundraiser or a large festival, treat your guests to the Spitting Pig North East experience and they'll go away with fond memories of a meal like no other. Whether you're standing watching bands in a sodden field or sat down at black tie gala, you can't beat a good portion of slow roasted pork, whether it's served in a fresh baked bun with stuffing and gravy or plated up with buttery minted new potatoes and seasonal veg, so give your guests something to really thank you for and make sure they're dining on a feast laid out by hog roast Jarrow.
Leaders In Our Field
Roast pork is the true common denominator – across the ages and around the world, it's a favourite wherever you go, and nowhere more so than here in Jarrow simply because we have the best available and it's a real thing to be proud of.
You can go right round the world trying out the cuisines of any culture you can name and I guarantee you you'll taste nothing that comes up to par with a Spitting Pig roll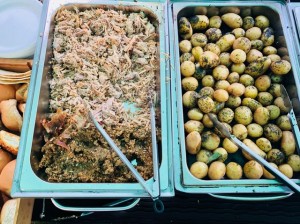 filled with slow roasted hot and tender pork, our own special gravy to lubricate everything and help it go down, a generous spoonful of our secret local stuffing recipe and some of our chef's best apple sauce. It's the perfect flavour and texture combination and its famous for a reason, and it goes with anything.
Perhaps the perfect accompaniment, though, is a pint of locally brewed real ale from a brewery with a bit of a local history, so you can get a taste of the heritage of the area you're in. The satisfying savouriness of the roll with the sweet edge from the apple sauce is perfect for working up a thirst and a swig of bitter really helps the roll go down a treat and cleanses the palate ready to truly enjoy the next mouthful. Real ale's my personal recommendation, but a good cloudy cider is not a bad substitute, providing that classic pairing of pork of and apple with the sharp kick of the cider. But whatever drink you've got in one hand, wherever you're drinking, make sure the other hand is grasping a Spitting Pig North East hot pork roll and you won't be going far wrong – you'll be eating with the best of them.