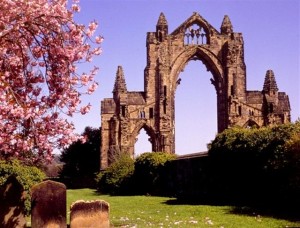 Guisborough's got a lot of history – some suggest that it dates back to the Roman occupation, and the famous Guisborough Helmet supports their theories, even if it's difficult to be 100% certain. What you can be 100% certain about is that another operation with a lot of history in Guisborough – Spitting Pig North East – are still very active in the area and are the best choice for miles around when it comes to event catering.
Some things just don't change, and if there were Romans in Guisborough you can be pretty sure that they were enjoying roast pork on the spit just as much as the present day residents do – it just works well, and stays the same down the ages. Hot roast pork is a formula that doesn't need to be improved upon. It is a bit easier to guarantee the best results every time nowadays – if you've got Spitting Pig and our famous stainless steel roasting machines on your side, you know you're on to a winner. There's something special about an open fire, but for even heat distribution and hygiene the modern chef goes with a Spitting Pig machine for his roast hogs and saves the open fire for roasting his marshmallows. Our expression 'worth your salt' come from the fact that Roman soldiers were paid in the stuff, which was exceedingly valuable at the time, and I think that given the option, any Roman worth his salt would have done the same.
You might think that hog roast is all about the flavour, but our Spitting Pig hot roast pork really is a feast for all the senses. Often, it's the smell that hits you first, before you've even spotted the stall. You could be 500 metres away if the wind's in the right direction. Suddenly a rich, meaty, satisfying smell overwhelms you; nostrils alert, sniffing the air, your interest is piqued.
The Best Hog Roasts In Guisborough
Where is that smell emanating from? At this point, there will be one thought at the forefront of your mind: 'I gotta get me some of THAT!' Following your nose, you seek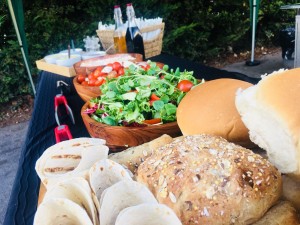 out the hog roast Guisborough stall… 'where can I find the source of that porky scent?' Up the hill, round the corner, across the other side of the river, through the woods – this part really depends on exactly where we've set up. Anyway, as you approach, suddenly the stall comes into sight – you can see our roasting machine, you've got a glimpse of the hog sat on top of it, and most importantly you can see the sign saying 'Spitting Pig' – if the smell wasn't enough, now you really know you're in for a treat because our reputation has proceeded us and you know that the best hog roast hire Guisborough meats for miles around are to be found being cooked by hog roast hire Guisborough.
As you bear down on the stall, praying that the queue won't take too long, the hog itself comes into sight – a magnificent beast, golden under the burners of our Spitting Pig roasting machines, nicely crisped up – we've been carving for a while, but fortunately you can see there's plenty of delicious tender meat left to go round. You're getting close now, itching to get your hands on one of our famous hot pork rolls. As you get to the front of the queue (and if there's one thing I can tell you about hog roasting, it's that there always is and always will be a queue -no matter how fast we serve, people demand more pork faster) you're close enough to hear the knife cutting into that crispy crackling. The anticipation is building. Finally you've got a soft freshly baked bun in your hands – feel the heft of the best sandwich you'll ever eat. And then the taste. Roll in hands, you take that first bite.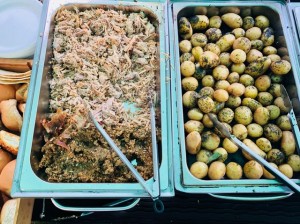 The inimitable satisfaction of hot tender pork cut straight off the spit into your bun by the good folk at hog roast hire Guisborough – us, that is. The tangy, fruity apple sauce. Our unique secret recipe stuffing. Gravy to bind everything together and a baker's best roll to soak up the juices. One won't be enough, but fortunately, we've still got half a hog on the spit, so why deprive yourself? I find the first roll is necessary to quench that hunger built up by all the anticipation, and the second I really savour. Two's normally enough for me, but we're very open minded at hog roast Guisborough – we're not going to judge if you come back for a third. Or a fourth. Or a fifth…