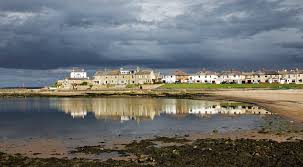 Amble, proclaimed owner of 'the friendliest port in England', is a tranquil wind-swept town. Fishing and recreational boats are scattered about the seaport which piques the interest of most visitors. For those uninterested in testing their sea legs a long pier gives you the opportunity to view everything from a safe distance. Unique to the town square is a sundial which works perfectly well when Britain is feeling generous!
Driving down here is always fun as you can cruise along the coast before duty calls. When it was time for our hog roast hire Amble to begin we were admirably snappy in heading towards our destination.
The Best Hog Roasts In Amble
Motoring along at a fair old tick, the house targeted for porkination was at the corner of a road. This caught us by surprise and we quickly made the turn. Facing us straightaway was an open garage with all kinds of equipment; stripped wires, deconstructed washing machines, microwaves and bizarre tools that could only be described as far more exotic than your average shovel & spade. My confusion didn't last for too much longer as the man of the house greeted us. He happened to be an inventor and was instantly drawn to our cooking apparatus. Before delving into the technicalities there was somethi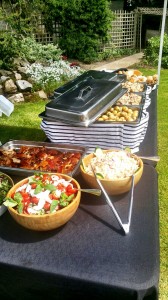 ng we both agreed upon, and that was that they simply look cool.
Aesthetically light years away from your flimsy BBQ, these babies are heavy duty and shine like the lost treasures of the Sierra Madre. I insisted that they are difficult to scratch, easy to clean and don't make the least bit of fuss when wheeled onto thick grass. I adorned today's machine with the spit as he continued to listen.
He was particularly infatuated by the fact there was a place to serve while other food continues to cook. Certain restaurants understand the theatrical side of cooking with methods such as flambé, but a few licks of fire in a frying pan is hard-pressed to compete with 20 plus chickens on a spit. When we say that a hog roast Amble will impress we mean it!
There was an only child present but another family helped make up the numbers for the 50kg hog which even looked tasty prior to the first minute of roasting. Once the families gelled there was plenty of talking with the occasional intervention of horseplay. You'd be surprised how quickly interactions can make one yearn for food. Fortunately for everybody the first wave of excellence was literally at hand in the form of sizzling chicken. For those not wild on chicken I would (and have) gone out of my way to ensure people taste these bad boys.
It's incredible what a pinch of salt & pepper can do.
Everybody was comfortably loaded with first class grub but a reading of -2 degrees plainly relayed that it's getting cold. Luckily there are a number of foods we provide that you may consider your winter warmers.
Leaders In Our Field
The simple yet classic baked potato is a side dish that will see to your pinkies, especially when slathered with a warm topping. Pork sandwiches are great for this too; with the meat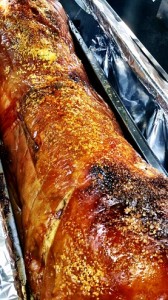 encased by the bun it's much harder for the heat to escape than when plonked on a plate.
As is customary the pig was the last to make an appearance. They all agreed that a plate dedicated solely to the crackling was a good idea; do remember that anything slight suggestion you may have will be respected! With the crackling on another plate it was lovingly picked at while they chomped down on the gloriously juicy strips of pork.
Upon our departure we were pleasantly amused to see everybody fussing over how they were going to divide the last of the meat. I have suffered from such dilemmas.
For the adventurous types a hog roast hire Amble can provide you with the chance to climb aboard a boat and try to locate some Basking sharks, or for that more subdued folk you could buy yourself a fishing rod and see what the carp's like. However, for everybody there is the opportunity to give us a ring and reap the benefits of becoming part of hog-roasting history; a history which is without peer.
It's not necessary for a wedding or job promotion to validate our presence (though they are very popular picks). In a sense we prefer it when our services are hired for nothing more than rumbling tummies. Order a hog roast Amble and we'll kill your appetite in mouth-watering style.